With the coming together of Advancement Courses and Teaching Channel, if you are currently enrolled in an Advancement Course, getting there may look a little different.
Teaching Channel and Advancement Courses have combined customer accounts. As of August 10, all former customer accounts will live at teachingchannel.com. To access your account on Teaching Channel, follow the steps below:
ACTIVATE your Account at Teaching Channel. This needs to be done so you can set your own password. Make sure to use the same email you used to register at Advancement Courses. You will only need to Activate Your Account one time.

After you click the RESET YOUR PASSWORD link, you will receive an email (from Teaching Channel with Learners Edge) with a six-digit code to reset your password. Copy and paste this code in the Reset Code box.

After clicking Verify Code, you will be able to choose and confirm a new password for your Teaching Channel Account.


Now you can login to your new Teaching Channel Account with your email address and newly created password.

Once you have accessed your new Teaching Channel account we encourage you to explore. Your Teaching Channel Account will be your new home for the following:

Single Sign-On Course access (once signed into your Teaching Channel account you will be able to directly access your course in the learning management system - one sign-on and access to everything you need!).
My Advancement Courses is where you will access any currently enrolled Advancement Courses.
My Teaching Channel Courses is where you will access any currently enrolled Teaching Channel courses.
My Course Bundles is where you will access any course bundles you have purchased through Teaching Channel.
My Profile - Contact information can be found in this section, including addresses for shipping, school and district information, and teaching interest information
My Orders will contain past Teaching Channel order information
My Group Registrations is the hub for group registrations which offers our best savings when you register with your friends and colleagues.
6. For those of you currently enrolled in an Advancement Course, You will access your course through the Teaching Channel My Account. After login in, look for the My Advancement Courses from the account navigation.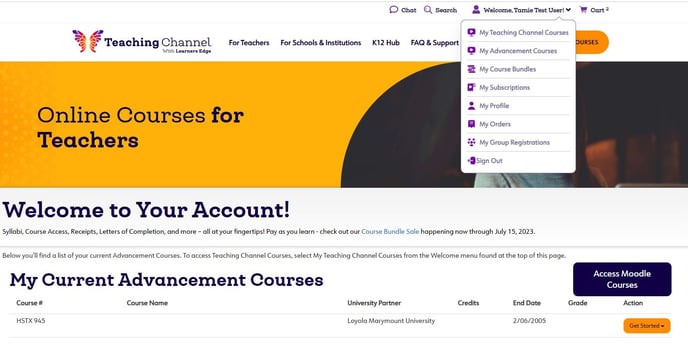 7. As you scroll down the page, you will notice a section called My Current Advancement Courses. All enrolled courses can be accessed through the purple "Access Moodle Courses" button.

Our combined teams are here to help. If you run into any challenges in activating your account, please chat with us (look for the chat icon in the bottom right corner of your screen on any teachingchannel.com screen) and we will work together to get you exactly what you need to successfully complete your course.