Learn how to find and view your grade and evaluator feedback for your Fast Track course.
How do I view my grade and evaluator feedback?
For a quick look at your Module 3 grade and evaluator comments, click the Grades tab on the left of your screen. This will display the status of the module, including grade and feedback that have been posted.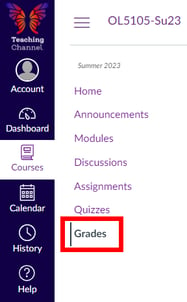 Click on the icons to the right of each Module Submission title to view evaluator feedback and the completed rubric.
Your cumulative grade is calculated automatically and will appear at the bottom of the page.

View your submission in greater detail by clicking on the Module 3 Submission link.
Here you can access your uploaded file(s), see the date/time your work was submitted, read evaluator comments, and view your final grade for the module.
To view the completed rubric, click on the Show Rubric link and scroll to view each criterion (any embedded comments).

What does "missing" work or "Request for Resubmission" mean?
Do you have a "Missing" stamp next to one of your submitted modules?

Don't worry! This means your course evaluator has requested that you resubmit your work for that particular module. Resubmitting your work will have no impact on your grade; we want to work with you until it's right!
Please click on the Module Submission link to read your evaluator's specific comments, view the rubric criteria, and to better understand any revisions that must be completed.
When you have made the requested revisions, click on the Resubmit Assignment button. You can now upload your revised work and add any additional comments for the evaluator in the Comment Box.
Click Submit Assignment to resubmit for review.
Your evaluator will review assignments from oldest submission to newest, so any resubmission will restart the evaluation timeline. Once a grade has been issued, coursework will not be re-evaluated.

More questions? We're just a chat or phone call away.